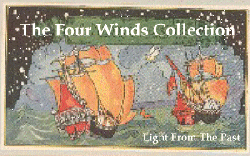 ---
Return To Four Winds Collection Home Page
Return To ClassicBronze.com Home Page
Return To TheWeddingVowSong.com Home Page
| Four Winds Collection History | Contact Information | Privacy Policy |
---
---
Top Of Page
The Four Winds Collection started business in 1988 with two other partners at Antique Partners in Boonsboro, Maryland before moving to Antique Station in Frederick, Maryland. We were in Antique Station for over six years before opening our current retail space at Old Glory Antique Marketplace. We expanded to the World Wide Web in August of 1995 being one of the very first antique and collectible business using the internet. In 1999 we expanded our online sales by using Ebay's auction services.
Presently we are located in Booth H-2 at Old Glory Antique Marketplace, 5862 Urbana Pike, Frederick, Maryland along with over 100 plus quality dealers. The mall is open daily from 10am-6pm and until 8pm on Thursday. Located just south of historic Frederick, Maryland between Grove Road and I-70 on Route 355. We are a general antique and collectible dealer and specialize in reproduction bronze sculptures and early photographs (pre-1920's). We have a limited number of bronzes sculptures on display in our retail space.
Our professionalism and experience has resulted in many satisfied Internet and eBay customers. Here are a few letters from a few of our satisfied customers. eBay customerFeedback
---
---
Top Of Page

We can be contacted via email

Email: Email for Four Winds Collection




We can also be contacted via telephone or text at 301-502-8549 10am to 10pm EST ask for Larry


Order Information: Order Page

Four Winds Collection Mailing Addresses
     Old Glory Antique Marketplace                
     Booth H-2, Four Winds Collection            
     5862 Urbana Pike                      
     Frederick, Maryland 21701                    
 

---
---
Top Of Page
Our policy is not to sell any customer information to any third party. We will only use customer information to contact you about customer service, special offers and new additions.
---
Thank you for visiting The Four Winds Collection.
---
Return To Four Winds Collection Home Page
Return To ClassicBronze.com Home Page
Return To TheWeddingVowSong.com Home Page
---
© 1995-2018 The Four Winds Collection